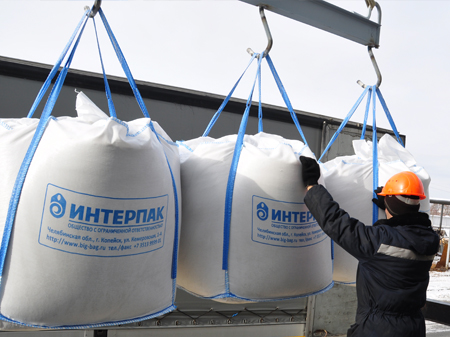 Flexible intermediate Bulk containers (FIBC, big-bags) are big strong bags with hoisting straps of different design. FIBC are made from woven polypropylene fabric. Depending on purpose and loads, FIBC are made with additional elements – inner liner, outer cover, loading and discharging spouts. Huge (no less than 5 times) ultimate safety factor and wide (-40 ...+60) temperature range allow to use FIBC for transportation and temporary storage of almost all kinds of bulk goods. Other benefits of FIBC:
leak resistance and small weight of the container itself (500-1000 times less than the weight of transported goods);

modest cost (compared to the other types of packaging);

wide variety of designs for all kinds of products and operating conditions;

possibility of outside storage;

reusable;

no extraordinary machinery and equipment required to deal with FIBC;

common means of transport and railway are required to carry moderately hazardous (2-5 class) and aggressive cargo;

suitable for food products transportation;

recyclable.
Due to all the above mentioned benefits, FIBC became the most popular, and for some products even the only possible type of industrial packaging.
Container loading volume varies from 300 to 2000 l, and carrying capacity varies from 500 to 2000 kg, as the ultimate safety factor is 5:1, 6:1. All major types of FIBC have GOST R certificate and satisfy the requirements of international regulations concerning the carriage of dangerous goods. Printed logo could be put on the container if required. FIBC are shipped packed in batches or on the pallets.
We trust, that all the information here will help you to make a best decision on packaging choice. If you have any special requirements, we are open to cooperation to fulfill them. All you questions and offers are very welcome.
Material type:
Polypropylene fabric

Volume capacity
0,3-3 m³ per 1 container

Carrying capacity
0,5-2,5 at 6:1 ultimate safety factor

Set
Inner liner, outer cover
wide variety of designs

for all kinds of products and operating conditions

leak resistance and small weight of the container

(500-1000 times less than the weight of transported goods)

modest cost

(compared to the other types of packaging)

possibility of outside storage

common means of transport and railway

required to carry moderately hazardous (2-5 class) and aggressive cargo

recyclable and reusable

suitable for food products transportation

no extraordinary machinery and equipment

are required to deal with FIBC
Flexible bulk container benefits: